How To Get What You Want From Divorce Mediation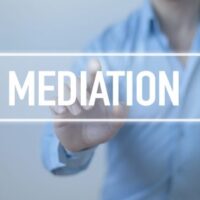 There are important issues concerning money, property, and the care of children that must be resolved when getting a divorce in Virginia. If you and your spouse do not agree on these matters, there are generally two options available. One is to hash these issues out in court hearings, which can take considerable amounts of time and money.  The other is to seek mediation instead. Our mediation attorney explains some of the benefits and how to get what you want in resolving your divorce case.
The Benefits of Divorce Mediation In Virginia
Under the Virginia Code, mediation is a process used to resolve important issues in divorce and other family law cases. It involves having an impartial third party appointed by the court (a mediator) listen to both sides of a dispute. They then make suggestions designed to help the parties involved reach mutually beneficial agreements.
A mediator cannot issue a ruling or order in your case, and what you discuss is kept private. While they will submit their suggestions to the court, you and your legal representative still have the final say. Some of the advantages of attending divorce mediation rather than fighting it out in court include:
Can save money in court costs and legal fees;
Prevents potentially sensitive details surrounding your situation from being made public;
Encourages better communication between you and your spouse, which can benefit you in child time-sharing and other matters;
Allows for more personalized arrangements rather than having a judge decide the matter.
How To Get The Best Outcome In Virginia Divorce Mediation
When filing a divorce through the Loudoun County Court, you will need to resolve important issues concerning your rights to marital property and assets, as well as the care and custody of children. The following tips can help you get the best possible outcome in mediation:
Focus on what you actually want: Wanting revenge on your spouse or to make them suffer are common feelings in divorce. However, focus on what you really want, which is to get your fair share of marital property and assets and to ensure children are provided for properly..
Be willing to negotiate: Mediation is not about one person getting their way, but rather negotiating an arrangement that is fair to all involved. If something like retaining possession of the family home is important to you, realize you may need to make some concessions.
Keep an open mind: Mediation has the potential to successfully resolve even the most complex and contentious divorce-related issues. Keep an open mind throughout the process and be willing to give consideration to any suggestions the mediator makes.
Discuss Your Options With Our Virginia Mediation Attorney
At Schwartz Kalina, PLLC., our experienced mediation attorney provides the trusted legal guidance you need to get the best possible results in your divorce case. To discuss your options in terms of mediation, call or contact us online and request a consultation today.
Sources:
law.lis.virginia.gov/vacodefull/title8.01/chapter21.2/#:~:text=%C2%A7%208.01%2D581.21.&text=%22Mediation%22%20means%20a%20process%20in,agreeable%20resolution%20to%20their%20dispute.
vacourts.gov/courts/jdr/loudoun/home.html