Five Ways To Make Getting A Divorce In Leesburg Easier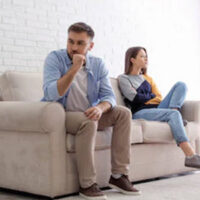 If you are considering getting a divorce in Leesburg, it is important to be aware of steps you can take to minimize conflicts and potential problems. While the circumstances surrounding the situation may still be painful, the following are five ways to make the divorce process in Loudoun County a little easier for yourself.
Get legal advice from an experienced Loudoun County divorce attorney. 
When considering a divorce, it is natural to confide in friends and family members about the situation. While their support can be invaluable, avoid relying on them for practical advice. Even if they previously went through a divorce, each case is different. To discuss the specific issues that are likely to arise in your case and your rights under the Virginia Code, get legal advice from an experienced Loudoun County divorce attorney.
Clarify your goals for divorce proceedings.
During a divorce consultation, we can discuss some of the legal issues in your specific case as well as what you hope to achieve during the process. This includes your wishes regarding marital property, such as being able to remain in the family home, as well as rights regarding children and any custody or visitation arrangements. You should also give thought to how you will support yourself both throughout the process and once your divorce is finalized. Depending on your circumstances, spousal support or alimony payments may be available.
Get organized.
Once you have a clear idea about your divorce goals and the legal issues that are likely to arise in your case, it is time to get organized. Go through your home and make a list of all marital property, such as cars, furniture, electronics, artwork or other collectibles, recreational gear, and other items. Get statements regarding your savings, investments, and any retirement benefits either of you is entitled to, as well as values for any businesses owned. All of this will be included in divorce-related documents filed with the Loudoun County Court.
Compartmentalize your personal feelings.
Feelings of anger, depression, resentment, and frustration are all common in divorce. However, it is important to not let these motivate you, cloud your judgment, or influence your behavior in divorce-related negotiations and legal proceedings. Being unreasonable or openly hostile could impact your rights in any divorce settlements or final orders issued by the judge in your case.
Think about what lies ahead, rather than the past.
While you may feel sad or even somewhat nostalgic about your marriage and the time you and your spouse spent together, it is important to stay focused on what lies ahead. Getting the best possible divorce settlement is a tangible step in recovering from divorce and in building a brighter future.
Contact Us Today for Help
At Schwartz Kalina, PLLC., you can count on us to provide the caring support, trusted guidance,  and professional legal representation you need throughout your divorce proceedings. To schedule a consultation, contact our Leesburg divorce attorneys today.