Dealing With Divorce-Related Stress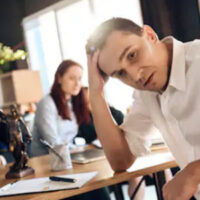 Getting a divorce is one of the most stressful experiences you can go through in life. In addition to the difficulties surrounding your marriage and break-up, there is the stress of dealing with divorce proceedings and concerns about your future. Having our experienced Leesburg divorce attorney makes the process easier and plays a major role in reducing your stress. The following details some other tips that can help you during this time.
Practical Steps You Can Take To Reduce The Stress Surrounding A Divorce 
There are numerous details that must be attended to when filing a divorce through the Loudoun County Court. Our Leesburg divorce attorneys will guide you throughout the process but there are practical steps you can take on your own. These can not only reduce your stress but can help during your divorce and in the recovery period after. They include:
Make an inventory of all property and assets you and your spouse possess.
Get statements regarding bank accounts, retirement benefits, and other assets, as well as current amounts for all your debts;
Refrain from communicating with your spouse without your attorney present;
Give thought to what types of child custody or time-sharing arrangements you would want to make;
Consider how you will support yourself in the aftermath of your divorce and whether alimony may be needed to gain the skills and experience you need to reenter the workforce.
Taking these types of practical steps can reduce your stress by helping you feel more in control of the situation and keeping your mind off the rollercoaster of emotions you are likely experiencing.
Additional Ways To Reduce Divorce-Related Stress
It is natural to mourn the end of your marriage and wonder about what lies ahead. Combined with practical concerns, this can create high levels of stress. In addition to impacting your emotional health, stress can take a heavy physical toll as well. Disrupted sleep schedules, over or under eating, increased anxiety or panic attacks, and overuse of alcohol or medications are all common.
To help reduce your stress and the potential to rely on unhealthy behaviors during your divorce, Psychology Today recommends the following tips:
Talk to friends or family members you trust about what you are experiencing;
Consider attending therapy or a support group;
Get a physical from your family doctor;
Make an effort to get outside and engage in some simple exercise each day;
Make it a point to eat regularly and try to choose healthy foods;
Allow yourself down times for naps, reading, or other low key activities;
Remind yourself that this is a temporary situation and that the feelings you experience will generally improve over time.
Let Us Help You Today
At Schwartz Kalina, PLLC., you can count on us to act as a strong legal ally on your side during divorce proceedings, providing the caring support and professional legal representation you need. Call or contact our Leesburg divorce attorneys online and request a consultation to discuss how we can help you today.