Practical Considerations Before Reconciling With Your Spouse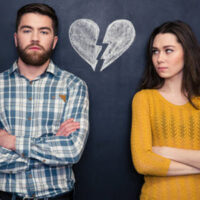 Going through a divorce is often one of the most difficult times in your life. Facing the loss of hopes and dreams you had on your wedding day, it is not uncommon to get nostalgic about your marriage and the time you spent together. Conflicting feelings can cause one or both parties to wonder if they are doing the right thing. While the temptation to get back together may be strong, there are some practical considerations to take into account before reconciling. 
Thinking About A Reconciliation? Practical Matters To Consider
 Even if you and your soon-to-be-ex spouse are on bad terms or had been thinking of ending  marriage for the past several years, there may be times during your divorce that you consider the idea of a reconciliation. Whether due to financial concerns, issues pertaining to children, or nostalgia over the good times you shared at some point, getting back together may seem like a good option.
The same as when making the choice to file for divorce, a reconciliation with your spouse is something that alone will need to decide.  However, there are some practical considerations you need to be aware of:
Separation requirements for getting a divorce: Under the Virginia Code, you and your spouse must have been separated for a period of six months before you can file for an uncontested divorce. If you reconcile and it does not work out, you will need to undergo another waiting period.
Fault grounds in your divorce proceedings: Behavior such as affairs or addictions can be listed as fault grounds in your divorce and may entitle you to greater amounts in any settlements or final divorce orders. If you reconcile, it will be seen as condoning the behavior and you will not be able to bring it up in any future divorce proceedings.
Getting a post-marital agreement: If you decide to reconcile after having once filed for divorce, we highly recommend getting a post-marital agreement. This can help to clear the air regarding issues that led you to want to end your marriage and helps to protect your rights in the event the reconciliation does not work out.
Questions To Ask Yourself Before Reconciling
While your family and friends are likely to have opinions about the matter, the decision to reconcile is ultimately between you and your spouse. To help you in the process, Psychology Today recommends asking yourselves these questions:
Are you and your spouse willing to forgive each other for words or actions taken during your prior divorce proceedings?
Are you willing to forget the past and not bring it up in future arguments?
Are you each willing to acknowledge and change behaviors that contributed to problems in your marriage?
Are you willing to get counseling to help address unresolved issues?
Let Us Help You Today
At Schwartz Kalina, PLLC., we provide the trusted guidance you need to protect your rights, no matter what your decision is regarding your divorce. To request a confidential consultation, contact our Leesburg divorce attorneys today.
Resource:
psychologytoday.com/us/blog/finding-love/201710/considering-reconciliation-answer-these-questions-first