Is Mediation An Option In My Leesburg Divorce Case?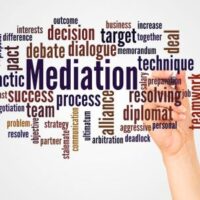 Going through a divorce in Loudoun County can be difficult, time-consuming, and expensive. Rather than going through lengthy court proceedings and presenting your case before a judge, meditation may be a better option. It can save time and money while keeping the details surrounding the situation private. Our Leesburg divorce attorney explains when it may be an option in your case.
Divorce Mediation In Loudoun County
When getting a divorce in Leesburg, there are certain issues under the Virginia Code that must be resolved before a final divorce order can be issued. As these impact your rights to money, property, and children, there is the potential for these proceedings to get contentious and for disagreements between the spouses to drag out for long months. In addition to the stress surrounding this type of situation, it can also cost you significant amounts of money.
Mediation provides a more efficient and cost-effective option. It involves meeting with an impartial third party, generally appointed through the court, who will facilitate negotiations between you and your spouse. The goal is to help the two of you reach a mutually beneficial settlement, without having to take your case to court. Among the top advantages:
While you still need an experienced Leesburg divorce attorney on your side, it can save money in court costs and legal fees.
It allows you to reach a more custom, personalized settlement, rather than having a judge decide;
By encouraging healthy communication between you and your soon-to-be former spouse, it can help in establishing healthy boundaries for any future dealings with them;
By not requiring public hearings, it allows you to keep sensitive information about your family and the details surrounding your divorce private.
Would Divorce Mediation Work In Your Case?
In the Virginia Courts, divorce mediation is considered a type of alternative dispute resolution. You are not required to go through mediation when getting a divorce in Loudoun County, but it is generally encouraged and considered beneficial. However, there are some situations in which it may not be the best choice. This includes:
If you or your spouse are unwilling to negotiate or cooperate with the mediation process;
If there is an uneven balance of power, such as when one spouse has generally dominated the other throughout the marriage or is using the divorce as a means of seeking revenge;
When there have been domestic violence allegations;
When one of the spouses refuses to consent to a divorce.
Reach Out And Contact Our Leesburg Divorce Attorneys To Request A Consultation
Mediation can help you avoid the stress of dealing with court hearings, protects your privacy, and may save time and money when filing for a divorce in Loudoun County. However, it is not for everyone. To find out if it is an option in your case, reach out to Schwartz Kalina, PLLC. We provide the caring support and trusted legal guidance you need when getting a divorce in Loudoun County. Call or contact our Leesburg divorce attorneys online to request a consultation.
Sources:
law.lis.virginia.gov/vacode/title20/chapter6/
vacourts.gov/courtadmin/aoc/djs/programs/drs/mediation/home.html