Five Situations In Which You Need The Protection of A Prenuptial Agreement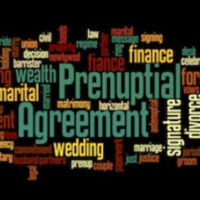 When couples get engaged, getting a prenuptial agreement may be the farthest thing from their minds. People often have the mistaken impression that it indicates a lack of confidence in the marriage or is a sign of an eventual divorce. Nothing could be farther from the truth.
With the help of our Leesburg family attorney, creating a prenup can actually help to strengthen your marriage. It allows you to get 'on the same page' so to speak with your future spouse in regards to money matters, which are one of the issues couples generally fight about most. It also provides a safe environment to talk about potentially contentious financial issues and helps in establishing open and honest patterns of communication. It is an option that all couples should consider.
In some cases, a prenuptial agreement is more than just an option-it is a necessity. The following details five situations in which a prenup helps ensure you and others you care about are protected:
When you have a significant amount of premarital assets.
Some people enter into marriage with significant amounts of property and assets. While divorce proceedings in the Loudoun County Courts generally only deal with marital assets, it is not uncommon for premarital property or funds in bank accounts to become commingled once you tie the knot. This could entitle your partner to claim an ownership interest in the event of a divorce.
When you are a business owner or partner.
If you own a business or are part of a partnership, a prenuptial agreement is a must. It is likely that your spouse will put some money or effort into the business over the course of your marriage. This could create serious problems in regards to ownership and could even result in the loss of your business if the marriage fails.
When you are heir to large sums of money or property.
Families that accumulate large amounts of property and assets often pass these down from one generation to the next. Listing any current or future inheritance in a prenuptial agreement protects the rights of other family members and your own future heirs.
When you have children from a prior marriage.
Under the Virginia Code, your spouse has an inherent right to any property and assets from your estate if anything happens to you. Even if you name children from a prior relationship in a will or other estate planning documents, this can be contested and will cost everyone time and money.
When you have concerns about your partners spending habits.
Differences in attitudes regarding money are one of the leading factors in divorce. If you have concerns about your partner's spending habits, a prenuptial agreement is the perfect place to address them.
Let Us Help You Today
At Schwartz Kalina, PLLC., we can guide you in creating a prenuptial agreement that protects you and helps to preserve your marriage. Contact our Leesburg family law attorney and request a confidential consultation today.