Warning Signs of An Impending Divorce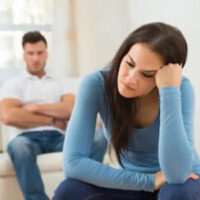 Every couple goes through the occasional rocky patch in their marriage. In some cases, the parties involved are able to reconcile any issues while keeping their relationship intact. In others, problems do not go away and eventually one or the other considers filing for a divorce. While facing the fact that your marriage is in trouble is difficult, it is generally easier and less painful than being blindsided by a divorce petition. The following details some of the warning signs to be aware of that can alert you to an impending divorce.
Warning Signs Your Marriage Is In Trouble
In the midst of working, raising a family, maintaining a home, and keeping up with other obligations, it is sometimes easy to miss subtle signs that your marriage is in trouble. Even if you do notice some difficulties in your relationship with your spouse, it is easy to overlook them or assume they will pass.
Unfortunately, what seems like minor problems in your mind could be serious enough to cause your spouse to consider divorce. According to Psychology Today, common warning signs include:
Increased fighting and disagreements with your partner;
Lack of physical touch or affection;
Being unable to communicate or discuss important matters;
Increased differences of opinion regarding issues such as your lifestyle together, your children, or your finances;
Spending less time together and focusing on individual activities;
Being unable or unwilling to resolve conflicts as they arise.
Signs A Divorce May Be Imminent
The above are subtle signs that your marriage is in trouble. In some cases, there are more tangible indicators that a divorce is imminent. To avoid being broadsided by a divorce petition or other legal actions, it is important to be alert for the following:
Your spouse no longer receives mail at your residence;
They receive mail but it is from unfamiliar sources;
They begin taking their names off of joint accounts or opening new lines of credit in their name alone;
They stop having their paycheck direct deposited into your joint account;
You notice an increase in debts and unfamiliar expenses;
They begin selling property or other assets of value that accumulated over the course of your marriage;
Important documents, such as financial statements, past tax returns, and your marriage license or birth certificates, appear to be missing;
They become more secretive in general about their activities.
It is vitally important to not ignore the above signs, as it could end up jeopardizing your rights in a divorce under the Virginia Code. Even if you have doubts regarding whether your spouse would actually file for a divorce or leave the marriage, you need to consult with an experienced Leesburg divorce attorney right away.
Contact Us Today for Help
At Schwartz Kalina, PLLC, we provide the trusted legal guidance you need to protect yourself when there are problems in your marriage and can help defend your rights and best interests in the event a divorce petition is filed. To request a confidential consultation regarding your case, call or contact our Leesburg divorce attorneys online today.
Resource:
psychologytoday.com/us/blog/divorce-grownups/200911/the-six-signals-divorce