My Spouse Asked for a Divorce. What Should I Do?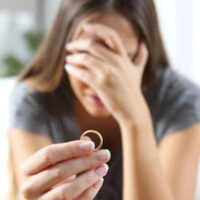 Even after spending years together as a couple, it is easy to miss the signs that your marriage is in trouble. As a result, it may come as a shock when your spouse asks for a divorce. Whether this request seems to come out of nowhere, after a lengthy period of marital problems, or in the midst of a separation, it is important to know how to respond. Our Leesburg divorce attorneys detail steps you need to take and what to expect during divorce proceedings.
Steps to Take if Your Spouse Asks for a Divorce
Your spouse may inform you of their desire to get a divorce or you may be served with a divorce petition filed through the Loudoun County Court. In either case, your first step should be to consult with our experienced Leesburg divorce attorneys.
We can sit down with you and go over the circumstances surrounding your marriage while reviewing any legal filings you may have received. Issues pertaining to your relationship with your partner, their behavior during the marriage, any property and assets you possess, and any children you have from the marriage are all important matters that must be discussed. Other steps to take right away include:
Gather information on each family member, such as their Social Security numbers and birth certificates;
Collect statements showing current bank account balances and any outstanding amounts you owe on credit cards, mortgages, or other loans;
Make a detailed list of all property you possess, including homes, cars, household items, antiques, and sporting goods;
Get copies of current and past year tax returns, as well as information about retirement accounts.
You may also want to begin keeping a journal, detailing the history of your marriage and the current situation. Make note of any marital misconduct that may have occurred, such as affairs or drug, alcohol, and gambling addictions. All of this is relevant in your divorce case.
What To Expect During A Divorce
If your spouse filed for divorce, you will need to show any legal documents you receive immediately to your attorney. If they have only announced their intentions, you may want to be the one who files a divorce petition. This often provides certain advantages and protections.
Under the Virginia Code, there are certain issues which must be resolved in any divorce case, regardless of who files and whether you and your spouse are on amicable terms. These include:
Division of marital property and assets;
Rights regarding child custody and support;
Determination on whether you are entitled to spousal support, otherwise known as alimony.
Decisions made during these proceedings will depend on numerous factors, including the length of your marriage, each party's individual income and assets, and other circumstances surrounding the case.
Let Us Help You Today
Decisions made during divorce can impact you for years into the future. To protect yourself, get Schwartz Kalina, PLLC on your side. Call or contact our Leesburg divorce attorneys online to request a consultation today.
Resource:
loudoun.gov/97/Circuit-Court