Dealing With The Holidays When Getting A Divorce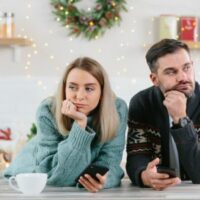 The holidays are here and it is a time of year many people eagerly look forward to. However, if you are going through a divorce, you may be feeling something more akin to dread. Dealing with the holidays in the aftermath of a breakup is difficult. Our Leesburg divorce attorney offers some tips to help in the months ahead.
Acknowledging Your Feelings And Adjusting Expectations About The Holidays   
The holiday season focuses on fun and spending time with family. This can prove painful if you are in the process of getting a divorce. An important part of dealing with the situation involves acknowledging your feelings and adjusting expectations.
The first step is realizing that this time of year is far from merry for many people. The Mayo Clinic reports that anxiety and depression tend to spike during the holiday season. In addition to making you feel miserable, this can take a heavy toll on your physical health.
Divorce involves making some major changes in your life. These can impact your relationships, where you live, your financial status, and your goals for the future. One of the best ways to protect your health and your feelings about yourself and the situation is by adjusting your expectations:
Recognize that things will be different this year;
Realize that any negative feelings you have now are temporary;
Resist the urge to try and make the holidays 'perfect' or to overspend;
Refrain from trying to appear happier or more festive than you actually are.
Find a friend or family to confide in about your feelings, focus on eating healthy and getting enough sleep, and consider picking out one or two holiday activities you might enjoy, rather than feeling pressured to say 'yes' to everything.
Dealing With Holiday Parenting Plans 
If you have children, the holiday season can pose additional challenges. Under the Virginia Code, child custody arrangements in divorce typically center around a parenting plan, in which both parties get to spend time with their children. In dealing with what can be a challenging situation, follow these tips:
Focus on helping your children successfully adjust to your divorce and this new situation;
Factor in their feelings and allow them time to process the changes in your family;
Find new holiday activities you can enjoy together, rather than clinging to past family traditions;
Face the fact that you may have to compromise in regard to the total amount of time you spend with them.
Get The Caring Support You Need When Going Through A Divorce In Loudoun County
Going through a divorce is never easy. Unfortunately, the holidays can make the situation more difficult. At Schwartz Kalina, PLLC., we provide the caring support you need and professional legal representation to protect your rights throughout the process. To find out how we can help, call or contact our office online and request a consultation with our Leesburg divorce attorneys today.
Sources:
mayoclinic.org/healthy-lifestyle/stress-management/in-depth/stress/art-20047544
law.lis.virginia.gov/vacode/title20/chapter6.1/section20-124.2/